[print_best_testimonial_slider]
"A century ago, the blacksmith shop on Albany Avenue served western Connecticut farmers and tradesmen journeying to the Capitol city to sell their wares.

In the 1920s, a fire forced the business to move a mile or so up the road. Still, the idiosyncratic little shop held on, even as the merchants and farmers were replaced by suburban commuters."
– (Source: articles.courant.com)
When the property owners were going to sell the West Hartford Ornamental Iron Shop to an orthodontist, many community members showed concern about losing a historic part of the district. It was in the year 2000 when the property was bought and re-established by second generation wrought iron workers under the name Wrought Iron Works, preserving the historical site and building. Today it continues to function as a blacksmith shop specializing in custom wrought iron items such as railings and fencing. Open year round six days a week, Wrought Iron Works is still here and thriving.
Wrought Iron Works offers clients free, professional estimates and will work you every step of the way to create and design sought after to enhance the beauty of your home or business with affordable, safe, and creative products that are guaranteed to last for years and resist rusting and environmental damage. All of our products are hand made in our West Hartford, CT shop.
Our experts can improve the look of your property, whether it be your front yard, backyard, or inside your home. At Wrought Iron Works, we provide year-round services for residential and commercial properties.
Some of our most popular services include but are not limited to: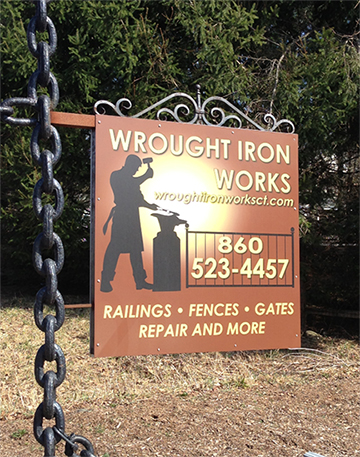 Ornamental exterior railings
Ornamental fencing
Balcony railings
Deck railings
Driveway and estate gates
Walkway gates
Handrails
Ornamental interior railings
Interior and exterior spiral staircases
Repairs/welding
Restoration/replication
Ornamental Decks and Railings
Metal Fences and Gates
Ornamental Iron Works
Miscellaneous Iron Fabricators
Metal Railings
Metal Fences
Custom Railings
Ornamental Gates
Ornamental Fences
Ornamental Railings