Wrought Iron Works CT designs metal fences & gates and railings which can be drafted from a design you have in mind or from designs we have already prepared. Metal fences & gates are usually elaborate, ornamental in design, and made up of wrought iron. Ornamental designs add a majestic touch to any property, and often, clients who order wrought iron gates complement the elegant look by installing ornamental railings and balconies.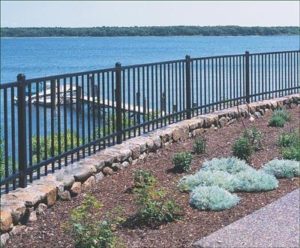 Keep in mind that ornamental wrought iron designs are not limited to outdoor entry ways and fence applications. These decorative railing pieces can also be used to add beauty to the interior of your home by separating living areas and replacing outdated catwalk railings. So, whether you are looking into adding a modern look to you property, metal gates, fences and railings can help you accomplish just that. Besides enhancing your property looks you will be adding unparalleled value with a product that is known to be long lasting and requires virtually no maintenance.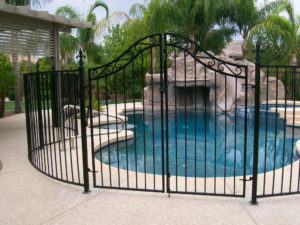 Wrought Iron Works, located in West Hartford, CT, has the experience to handle any type of railing project… from deck railing, to balcony railing, to stairway railing, we are proud to install only the best materials in the most professional manner. We are experienced in both commercial and residential railing. Please browse our portfolio of handrailing projects to learn more about our recent installations.
Fully custom iron fences and metal fences are made from high quality material, they are durable and are custom made to suit any taste. They are the perfect complement to driveway gates and can be combined with wood fences for a really nice look. Iron fences offer a protective enclosure with a spacious feel. We also have prefabricated basic fences as well. Each piece is pretreated with a powder coat finish. These fences are virtually maintenance free, which gives them an advantage over traditional wood fences.
If you are not sure if this is the style you are after please browse through our photo gallery of ornamental and metal fences, railings and gate styles or call one of our representatives.