Strong, Beautiful, and Durable – Ornamental Gates
For years, Wrought Iron Works of CT has been providing the very best in installing ornamental gates. We have been the premier local, family-owned and operated metal fabrication contractor in Connecticut and the surrounding areas. We work hard to give our customers products that are truly one of a kind, and we offer the assurance that comes along with structures that are built to stand the test of time. Here is an overview of all the different styles of ornamental iron gates we can do for you.
Are you in the market for a new residential fence or gate? Wooden fences are the standard for backyard privacy fences, but they lack the appeal and strength of elegant ornamental iron. If you are looking for a way to secure your residential property that doesn't interfere with the natural beauty of the landscape, ornamental gates may best meet your needs.
Control Access with Elegance
Ornamental iron gates offer homes and residential communities a way to control access and driveways with elegance. Durable powder-coated iron is strong enough to maintain a secure perimeter, but conveys a classic manor-style aesthetic that adds sophistication to your property.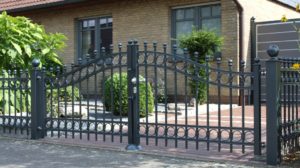 Gates made from iron tend to last decades longer than wooden fences and can secure a home or community without hiding or interfering with the beauty of your buildings and landscaping.
Here at Wrought Iron Works, we appreciate the opportunity we receive to craft features that reflect our passion, dedication and commitment to hard work. That includes creating decorative iron work, custom pool fences, entryway gates, and much more.
Our Shop
Our shop includes a dedicated paint booth, so you can rest assured that all the finishing touches on your items will come out flawlessly. Our range of ornamental gates is so stately and long wearing, they are ideal for Connecticut private residences as well as public buildings and parks, urban renewal projects, historic preservation applications, domestic garden applications, museums and universities, government buildings, and churches and cemeteries.
Installation services: Although our craft stretches back centuries, we are happy to also include those modern touches necessary for today's world. Our team of professional is experienced and very thorough when installing gates and removing old structures including wooden fences.
At Wrought Iron Works, we strive to provide iron work that is not only visually appealing, but also built to withstand the harshest weather conditions. Our products are as sturdy as they are stunning, able to survive high humidity and winds. We take pride in every step of the creation process, and this dedication to premium materials and excellent fabrication has earned us thousands of satisfied customers.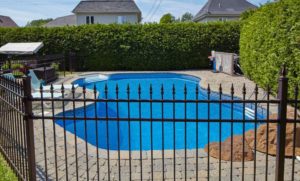 Our approach to Iron Gates may be traditional, but our approach to prices is modern. Call us to learn more and request a free estimate for your next wrought iron gate project.