From preliminary planning to installation, Wrought Iron Works helps produce quality results while attempting to meet the budget constraints of our clients. We are quite often involved in the early design phase of a project as architects, owners, contractors, and other iron fabricators come to us for ideas on how best to realize their concepts. Our involvement early in the planning stages saves our clients both time and money, because nobody understands custom iron fabrication better than we do.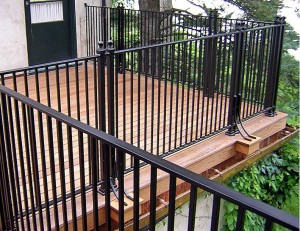 Wrought Iron Works has been fabricating iron works in West Hartford, Ct for the past 20 years. Many happy customers.
It all begins with our engineering team carefully designing the product with quality materials and a well planned design. We provide quality iron from the start. Our team takes an uncompromising approach to every piece, ensuring that it meets the highest of standards before leaving our shop. It's our pride in our work that makes the quality difference. Your project is our project, so our teams work tirelessly to ensure we're helping you move your projects along during the installation phase. Just like you, we take pride in a job well done.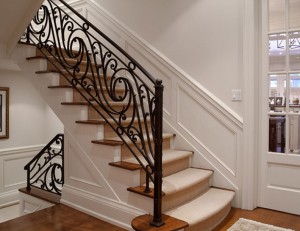 Let our gallery of wrought iron doors, gates, railings and much more be the starting point for your dream entrance. Browse our design ideas to create your own personal expression of style that will appeal to family, friends and guests for years to come.
We at Wrought Iron Works are steadfast in the belief that dependable service and integrity will be the foundation for all negotiations and transactions. It is our intention to deliver the kind of quality and craftsmanship we would expect at our homes and businesses.
We are extremely proud of its heritage and reputation. Our continued desire to excel and grow is reinforced every day by the compliments of our customers.
At Wrought Iron Works, we pride our-selfs in providing consistent and outstanding work that meets and exceeds customer's expectations. We custom fabricate our products with the highest quality at a competitive price and offer stunning hand forged Doors, Railings, Balconies and Gates which create a dramatic visual effect in contemporary homes and traditional architectural design. Our scrolled iron is hot forged by hand and brought to life by skilled craftsmen that have years of experience.
We Implement your Ideas and offer attractive options that work perfectly with your architectural design which allows you to give your home that real custom feeling. Our craftsmen collaborate with you to incorporate your Ideas and create the perfect dream Iron door for you….. An entry door is much more than just a door, it is the first impression. It is a direct representation of your unique and personal style.
All iron products are fabricated in our facility in West Hartford CT allowing the work to be completed in a timely manner.
Style and Design stunning hand forged iron Ornamental Gates, and Balconies, Railings, and Doors…