Wrought Iron Works CT. is one of Connecticut's oldest producer and installer of wrought iron, ornamental iron, cast iron, and custom iron design, parts and accessories. For many years, we have offered an extensive line of wrought iron and ornamental iron products. Our highest standard, beautifully-crafted products are manufactured in house, located in West Hartford, CT.
Wrought iron is one of the toughest and most durable materials for railings, doors, gates, handrails, fences, trellises, plant holders, home and garden accents and spiral staircases. Hand-forged, custom made ornamental ironwork combines function with charm and beauty.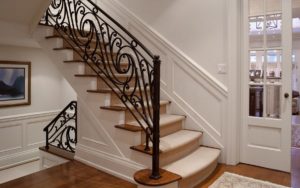 If you are looking for ornamental railings, you have come to the right place. We have many different styles available to our customers. Whether you are looking for traditional, modern or simply unique we have it all! Remember, we can do custom orders as well!
Our custom ornamental railings are offered in a wide selection from the simplest to the most sophisticated designs. Whether we design the work for you or we go by your own design, our railings will always bring beauty, style, and elegance to your home. The railings are handcrafted in our shop in Connecticut and customized for you.
Whatever the design or style the ornmental railings will always meet the code requirements. The wrought iron railings that we will install on your front porch, deck, patio or inside your home will complement any architectural style and will offer function, safety, and a beautiful decorative finish. We will work closely with you to find exactly the right design for you and your home.
When you buy from Wrought Iron Works CT, you can feel confident that you're receiving the most competitive prices and superior quality. We can custom-make virtually any wrought iron design to suit your specifications. We can fulfill all of your functional and aesthetic iron works needs. Feel free to give us a call for additional assistance to any questions you may have.